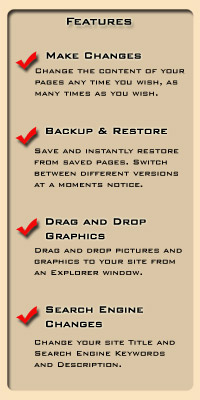 With Foxstone's Content Management System (Content Console) you will be able to instantly make many changes to your site's content and graphics without the need of expensive web development costs. (See note.)
Making changes on a Content Management System is as easy as using a word processor on your own computer. You will have a private 'console access' webpage that will allow you to edit your site's pages in WYSIWYG format, just as if you were using Word, WordPerfect, etc.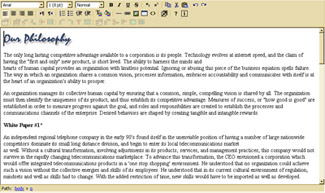 All of the Web Programming Language is formatted for you automatically. Of course, you can edit the raw HTML webpage if you wish.
By using the Backup and Restore features, you can save copies of your pages before you start making changes, insuring that you can always recover a good copy should you make changes that you want to quickly undo. Also, you may have several versions of the same page on-line and switch between them.
Getting your graphics, pictures, clipart, and logo's to your website is done with a drag and drop window. The interface will be a Microsoft Explorer window through which you can upload, change and delete graphics instantly on your website.
The Content Management System also allows you to modify areas that the Search Engines look at on your site; the page titles (seen in the top browser bar) and the hidden META tags that contain your page keywords and descriptions.
---
Please Note: Not all sites and pages lend themselves to being changeable via the Content Console. For example, pages generated dynamically from a database are not static and cannot be edited in this manner.